We have watched quite closely the first half financial performance of our portfolio of lower middle market companies. Almost all of them have benefitted from four trends that have accelerated in the pandemic:
Business Travel Has Stopped
Business Entertainment Has Been Curtailed
Capital Expenditures Have Focused on Customer Experience
Falling Energy Prices and Demand Have Relieved High Freight Costs
SG&A Savings Have Helped Bottom Line
The biggest change is business travel. For now, customers do not want new people on their premises and suppliers don't want to risk either contamination from travel or quarantine under state rules. For most of our portfolio, virtual sales meetings using Zoom, Google Meet or Microsoft Teams are an effective substitute with existing customers, but have yet to be shown as effective new customer development tools.
The good news is revenue declines have been offset by sales, general and administrative changes, and significant freight reductions. Instead of dramatically reducing head count, other savings have kept bottom line budgets created in January mostly achievable based on performance through the first 6 months and trends for Q3 and Q4. A recent article in the WSJ dated June 15, "Business Travel Won't Be Taking Off Soon Amid Coronavirus," reported it the same way with a special emphasis on how CEO's perceive it:
Andreas Fibig, chief executive officer of International Flavors & Fragrances, said he is planning for a permanent 30% to 50% reduction in business travel for his company because he says remote work has proven effective. While Mr. Fibig used to max out at 11 meetings a day, now he sometimes has 13 Zoom calls a day, plus an extra two hours to exercise, because he no longer has a commute.
Whisky & Tickets No Longer A Dominant Sales Tool
Another trend that has accelerated is the changing nature of business entertainment. Big trade shows are on hold now, but will still make sense for many of our companies once or twice a year, as long as customers and suppliers can schedule 10 or more meetings a day. Golf trips, expensive dinners, marquee sporting events, and reward travel were already declining before Covid-19 because of time management. It seems like customers would rather see you solving their problems than playing golf with you. Time management and family priorities make a ½ day experience rare. Even the traditional power lunch is giving way to quite popular virtual "lunch and learns" catered by Uber Eats or GrubHub. The restaurant industry is slumping according to Open Table and some parts of it may not come back for business: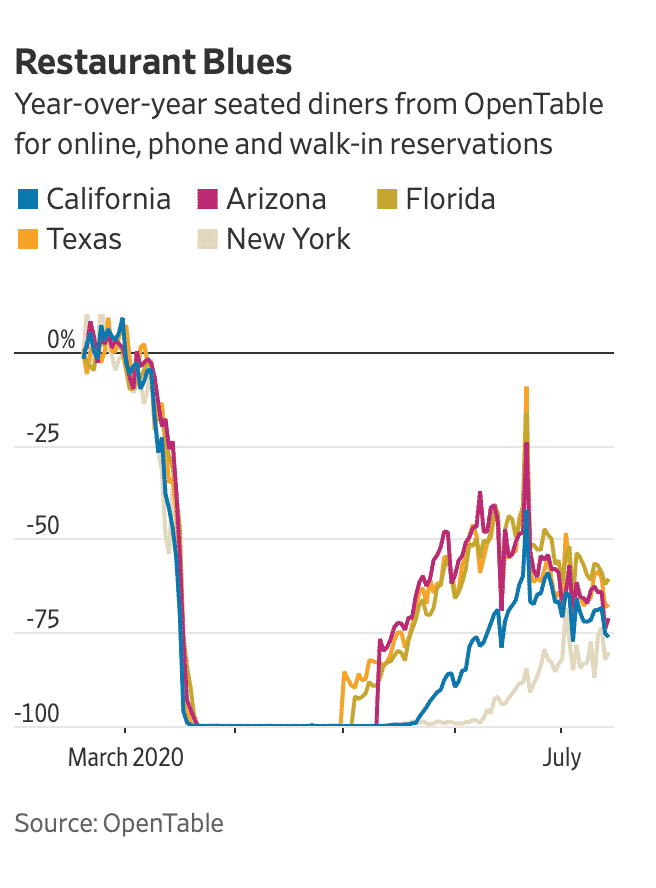 Property, Plant and Equipment Expenditures Are Curtailed
Most of our companies' capital expenditure budgets are based on really quick paybacks (12-18 months). When a major budget item is considered, it often is linked to the customer experience like an enterprise resource planning (ERP) system that lets customers enter and track orders or factory automation where savings can be shared with customers in exchange for long term contracts. Right now, there is plenty of production capacity in the industrial space and excess inventories are expensive in a leveraged business model.
Freight Costs Have Fallen by a Meaningful Amount
Collapsing oil prices and excess capacity for most freight companies have given companies which ship long distances a meaningful benefit. This change makes geography less of a business advantage for industries with high shipping costs. Here is a chart from the WSJ Daily Shot as of the mid April 2020. The freight depression has only worsened from that time based on the significant reduction in freight expenses our companies are seeing: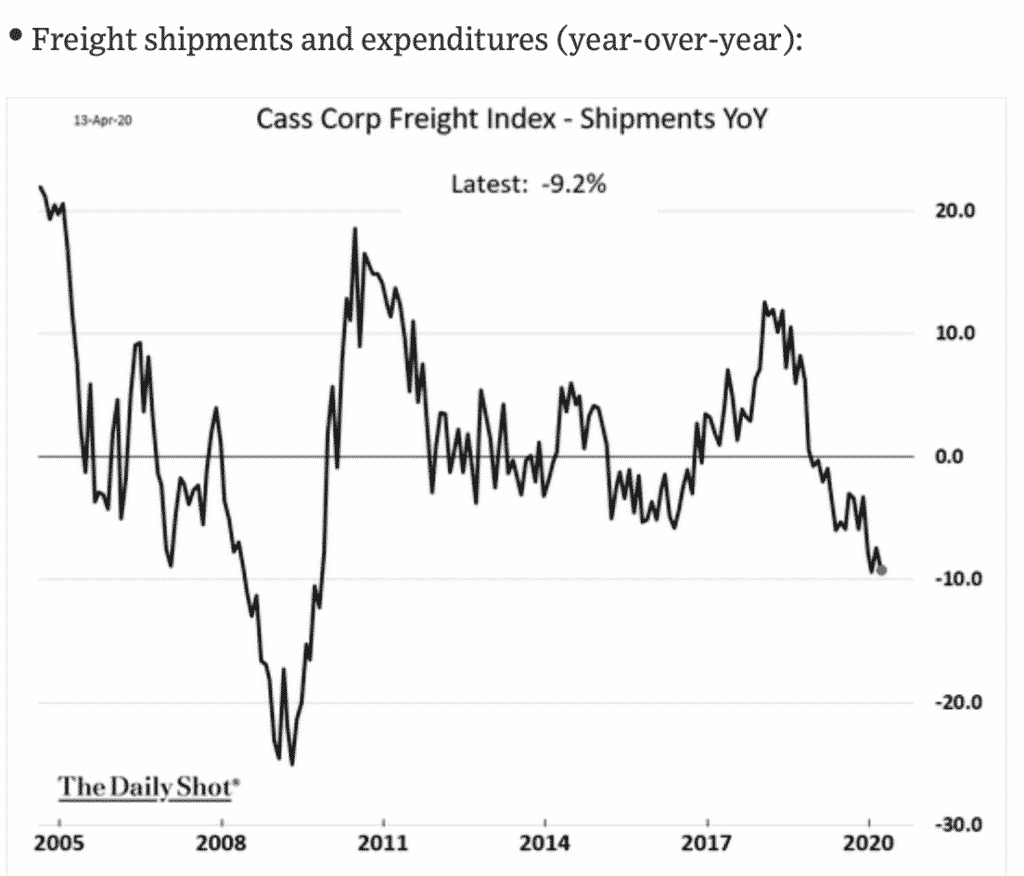 Face to Face Travel Model Will Be Challenged
I spoke with a friend who is the Global Director Of Industry Relations for a premium travel organization with thousands of customers and agents all over the world. She has found Covid-19 has broken what she calls the "hamster wheel of business entertainment relationships." Business travel and entertainment budgets have been slashed and even if suppliers want to reward customers with traditional "whisky and tickets," there will be no budget for this and even less interest from a new generation of business people who value customized experiences over traditions like a trip to The Masters or The Super Bowl. Her company has already replaced the holiday cocktail party with a kids party. It is extremely popular because of unique experiences.
Her company is global and she understands that her budgets will be spent on upgrading technology to link customers and agents, not reward travel. While this will be the short-term allocation of capital for her business as it recovers from a devastating cessation of travel, she wonders whether face to face relationship building, especially a new business relationship, can ever be successful in a virtual world. She also says destination travel contracts will be completely rewritten to allow flexible cancellations.
One emerging trend she thinks will be permanent is the substitution of individual choice for the old model of group rewards. All-expenses-paid group reward travel to Tahiti for big producers may cease to exist.