This Monday I was anxious to scour the news for one of the greatest emerging conflicts of my lifetime. I raced right past the war in Ukraine, tensions in the South China Sea, the Wagner Group's march to Moscow and China's burgeoning spy base in Cuba. The real news of the day is Zuckerberg v. Musk in a cage fight of the century.
My money is on Zuck. He is younger and fitter than Musk and has been training in jiu-jitsu and kick boxing for the last twelve months. Musk concedes he may have to do a little "catchup" training first and admits his only move right now is "The Walrus" where he spread eagles his massive frame over his opponent in a suffocation move.
I am sure the Boards of publicly traded Facebook (META, NASDAQ) and Tesla (TSL, NYSE) and the investors in privately held SpaceX and Twitter are similarly thrilled by this wonderful diversion from the principal task of making profits for shareholders. I wonder whether any adult fiduciary will stop the escalation of rhetoric before the fight becomes scheduled in MetaVerse with One Trillion Twitterbucks as the purse? I also suspect there is a Reddit investment wolfpack forming right now to acquire the Modelo Brewery in the Metaverse? You may recall Modelo is the primary sponsor of UFC cage fighting and the principal beneficiary of Budweiser's recent market share attrition.
Since I am obviously out of touch with prevailing governance concepts like the responsibilities of CEOs of public companies, I asked ChatGPT for its opinion about Zuck and Musk's cage fight plans. I got this response from ChatGPT:
"As CEOs of publicly traded companies, both Mark Zuckerberg and Elon Musk have fiduciary responsibilities to their shareholders. These responsibilities include acting in the best interests of the shareholders and maximizing shareholder value. Engaging in a physical fight would not align with these responsibilities and would likely be viewed as highly unprofessional and detrimental to their respective companies."
What Chat may be missing, however, is Zuck and Musk may not be held to the same fiduciary standards as other tech rock stars like Satya Nadella (MSFT, NASDAQ) because of how they own their companies. For example, Facebook has two classes of stock. One class is owned by the public shareholders, and it has one vote per share. The other class is owned by Zuck and a few insiders and it has 10 votes per share. This guarantees Zuck with less than 10% of the outstanding shares complete governance control of all important decisions at Facebook. Recent investor angst about Zuck's big and expensive bet on the Metaverse did not phase Zuck until institutional investors sold Meta. He then listened and responded to the only higher power he seems to care about – his place in the line up of the top 10 billionaires. He fell to number 11 in 2022 when META lost more than 60% of its market value. Here is a chart of Meta's stock price over the last 5 years from Yahoo Finance: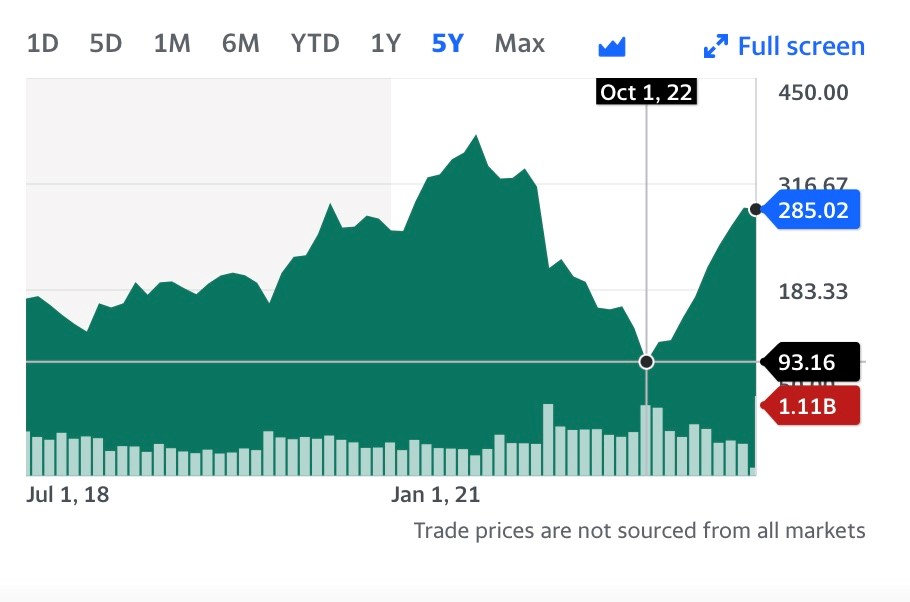 Musk has de facto control of Tesla because he is Elon Musk. He does not have any dual stock authority like Zuck but Musk has never had governance issues or problems with healthy compensation packages. Like Zuck, Musk appears to share similar disregard for the opinions of shareholders. Below is a chart of Tesla's stock performance over the last 5 years from Yahoo Finance: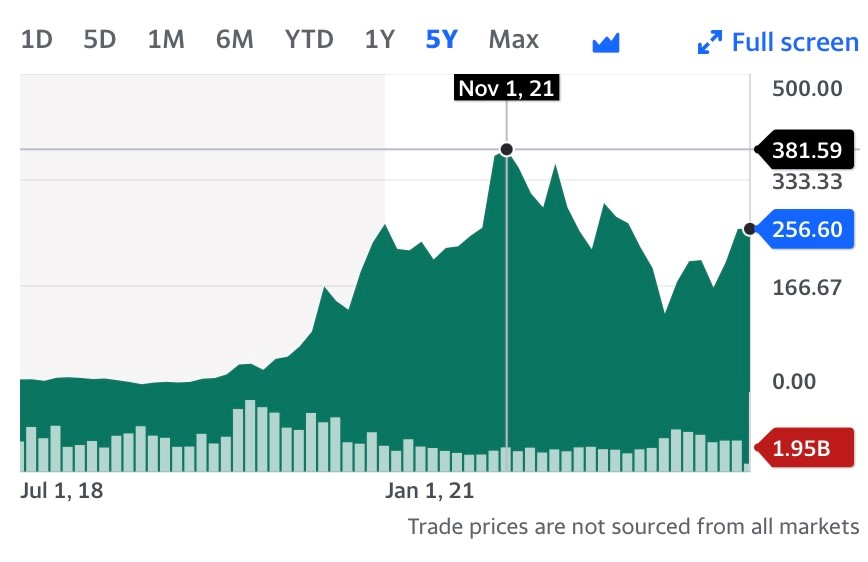 Concepts of responsibility to shareholders and fiduciary duty are obviously important to Zuck and Musk but, while this free advertising and self-promotion abound, the cage fight will still dominate the news. Musk must see this as a way of getting Twitter back on track with lively commentary from Tweeters? His $43 Billion investment may have been a bit of an overreach and his fortunes at Tesla have lagged of late. For his part Zuck needs an event in the Metaverse to counter Microsoft's recent innovations in virtual reality and  a virtual cage fight might be exactly what he hopes for.
New Model For Conflict Resolution
American entrepreneurs are always innovating to propel civilizations  forward and I think the cage fight concept for conflict resolution is a clear indication of how our species is evolving. Think of the fight card leading up to the Zuck v. Musk feature event:
Chairman Xi (China) v. Tsai Ing-wen (Taiwan)
Kim Jong Un (North Korea) v. Yoon Suk Yeo (South Korea)
Putin v Prigozhin
DeSantis v Newsome
No matter what it may conclude about fiduciary responsibility and duty to shareholders, I think ChatGPT has misunderstood the national anxiety relief opportunity provided by a cage fight in the Metaverse sponsored Modelo, not to mention revenue opportunities on FanDuel and Ultimate Fighting Championship.
The above commentary is for informational purposes only.  Not intended as legal or investment advice or a recommendation of any particular security or strategy. Information prepared from third-party sources is believed to be reliable though its accuracy is not guaranteed. Opinions expressed in this commentary reflect subjective judgments based on conditions at the time of writing and are subject to change without notice.