I attended my 50th college reunion earlier this month and had the good fortune of listening to a dozen subject matter presentations by reunion alums from class years ending in "3" or "8". I was really interested in a presentation by several of my class members and a gentleman from the class of 1978 on the "Future of the Car."
The lead-off speaker was one on my classmates who works for S&P's Market Intelligence group. They track all things automotive by buying registration information to support their trends research. This speaker made it perfectly clear that consumer preferences are moving from internal combustion engines ("ICE") to electric vehicles ("EV's) at a much faster pace than I had anticipated. Consumers want electric vehicles, and are now planning on switching in the next 3-5 years.
The second speaker came from the class of 1978. This gentleman works for a competitor of Waymo, formerly the Google self-driving car project.  He showed some video of cars driving people around all of whom were in the back seat and happily trusting their lives to lidar-enabled sensors and a decade of autonomous driving outcomes. He was quite comfortable with safety and reliability, but I noticed he arrived at reunion in a pick-up truck.
Geology and Chemistry Are Partners In EVs and Electrification
The third speaker was a classmate who I have known since freshman year and who eschewed a career in law, medicine, finance and teaching for a humble 40 years as a geologist. After two colorful and appealing presentations from alums with something to promote you could almost sense the deflation of expectations in the room when the soft-spoken geologist began his basic black and white PowerPoint presentation.
But I knew these presentations would be grounded in science, well- documented and, while lacking the flair of the first two, a lot more skeptical and challenging. My friend did not disappoint freshman year and he again proved to have the last word.
After about 5 minutes of talking about the minerals that are required to make cars and batteries and demonstrating that China has cleverly locked up the source of supply for most of the rare earth minerals he dropped his first bomb when he showed a slide about copper ("CU"). I was ready to check out because copper is not a rare earth mineral and certainly not in short supply. To the contrary my friend stayed with the facts. The current worldwide capacity for mining CU is about 35 million metric tons. Based on current production methods and designs, the switch from ICE to EV would require a doubling of the copper supply and my friend had great doubts about whether there was enough copper to be mined to supply the best conductor of electricity and the most basic component of the electric vehicle.
He showed one chart was labeled "Total Mineral demand For Clean Energy Scenarios 2020 versus 2040″, with the objective being environmental compliance with the Glasgow 2021 accord and the lesser standard of Paris 2015. His research showed the mineral demand for Paris compliance was 4x the 2020 usage and 6x for Glasgow compliance. Right now, there is not a problem. China, Europe, US, South Korea and Japan are all ramping up production and battery pack costs are 1/10th of what they were in 2010. However, future demand may exceed supply.
Financial Markets and Experts Don't Line Up
I returned to the normal retirement schedule the next week and was more than surprised to see "The Wall Street Journal" had both an article by Hardika Singh and David Umberti titled "War For Talent At Mines Could Drive Up The Cost of Energy Transition" and a video about copper shortages titled "Why A Copper Shortage Threatens EV and Green Transition." These authors and presenters confirm what my geologist friend predicted. They all do not see enough mining or processing capacity to satisfy the demand for even the base metals like copper. This is before you consider rare earth minerals which are controlled by China.
Notwithstanding the experts all saying there is not enough capacity to meet demand, the base metals markets are all inexplicably trading down as shown in the following chart for copper, tin, aluminum and zinc: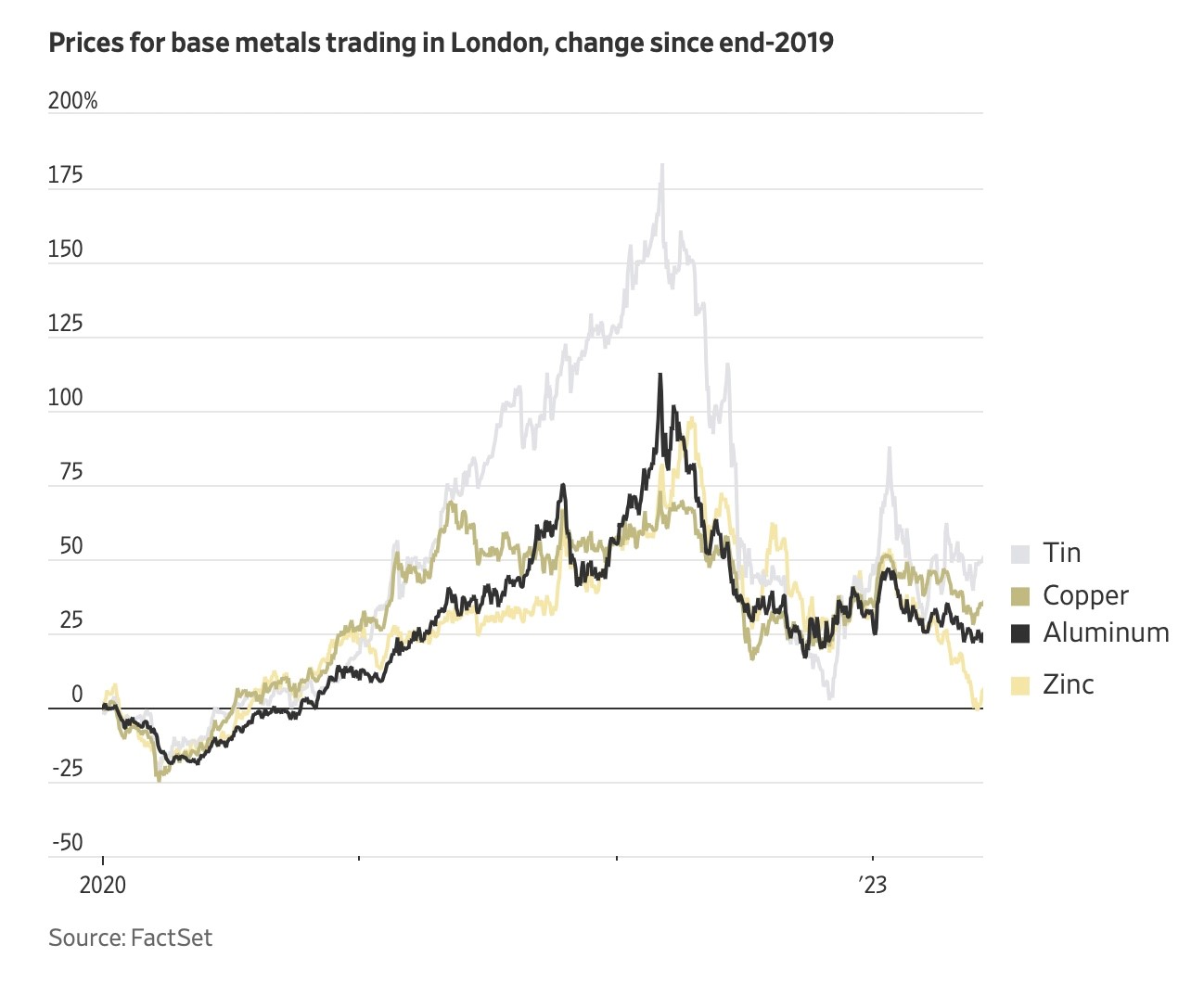 Coming full circle back to my reunion speakers, it was heartening to see both the hype and glitter of the EV transition and the elixir of worldwide electrification fall flat based on one simple truth we all learned in high school – copper is simply the best conductor of electricity. When my friend finished his presentation concluding that the worldwide capacity for copper mining alone will not satisfy EV and electrification demands, I was sure he was right. More importantly, the financial experts agree with the geologist as well. You have to wonder why the commodities markets are signaling something else???