My recent research on financial literacy has helped me understand credit cards may be the number one enemy of consumer welfare for the foreseeable future. Here are some of the top ten findings from an article by Samantha Rose on December 22, 2021 writing for OPPU at www.opploans.com about the financial condition of all generations of Americans at the end of 2021:
Two in three families lack an emergency fund
 78% of adults live paycheck to paycheck
Three in five adults don't keep a budget
 Four in five youths failed a financial literacy quiz
 27 states scored a C, D, or F for high school financial literacy
 54% of millennials are concerned about student loans
10% of consumers ages 18 to 29 have credit card debt that is over 90 days late.
 Six out of 10 U.S. adults had credit card debt in the past year. And nearly two in five indicate that they carry balances from month to month, resulting in interest and late fees.
Discretionary Cash May Be Going, Going, Gone
On top of this financial profile consider your last experience at the gas station where you probably spent $75-$100 for a fill up and you put it on your credit card because you don't use cash and your debit card may bounce. The implications of financing necessities like gasoline on your credit card are not easy to understand so I went to FinancialMentor.com and used their proprietary Credit Card Rate Calculator.
If your non-discretionary variable expenses like gasoline, rent, grocery, utilities, day care, taxes etc. are compounding at 8% annually and your wages are compounding at only 4% -6% annually (research shows wage increases are still lagging) it should be clear that income will lag outflow for the foreseeable future. If this deficit is funded on a credit card at 15-19% APR compounded daily I cannot see how the consumer will shed credit card debt any time soon?
Here is the amortization schedule for one, two and three fill ups at the pump financed by credit cards at 15% compounded daily where you can only afford to pay off $5.00 per month or $60 per year:
            $100 -APR 15% -Pay Off $5/month- takes 2 years
            $200 -APR 15% -PayOff$5/month -takes 6.6 years
            $300 -APR 15% -Pay Off $5/month- takes 9.3 years
If you finance 5 fill ups ($500) and pay back only $5/month your minimum monthly interest charge is $6.25 and you never pay off your credit card debt.
While this is a rational analysis of the horrible financial effects of financing inflation with variable rate credit cards compounding at 15%-19.9%, the appeal of easy access, unsecured credit NOW is just too good to pass up. This is especially true for several generational cohorts for whom grooming their FICO score may be more important than growing their savings account. Here is a chart from Bloomberg.com that shows the recent surge in credit card spending.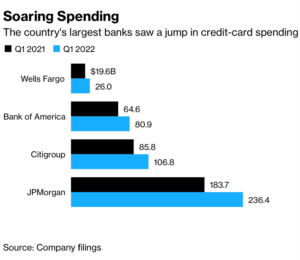 Recent earnings warnings from Snap Chat and Meta (Facebook) confirm my fear the consumer has exhausted Covid era subsidy payments and is now facing variable rate quicksand as the only path for daily living. Here is a chart from the Federal Reserve Board of Governors showing the inflection point in March 2022: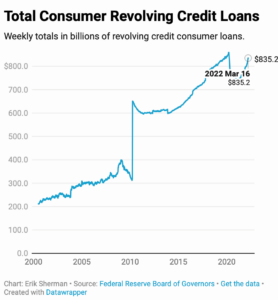 These changing trends make me agonize about consumer literacy and public policy. An uninformed consumer and debt- based prosperity policies collide when the last resort is financing your necessities on a credit card. Where are the regulators as the compound interest rate on a newly issued credit card is as high as 19.9% and we really have an education problem for a wide swath of American consumers? Take this literacy test and talk about its nuances with your children and grandchildren; no right answers after the obvious first choice.
You may all conclude a rising FICO score is only benefiting the credit card companies and maybe a high literacy score is something far more durable.
TEST YOUR LITERACY
If you received a cash windfall during a period of rising interest rates and high and persistent inflation, how would you rank these financial options:
1. Make a down payment on a new home
2. Buy a new car
3. Pay Off your credit card debt
4. Put your cash in an interest bearing savings account